Love and Serve Shirt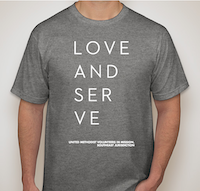 To order a "Love and Serve" shirt, please email matt_lacey@umvim.org with the sizes and quantity.  
T-shirts are $24.00 which includes shipping, plus you support a great ministry!
This is a soft jersey knit t-shirt.  The shirts tend run large, but will shrink during the washing process.
Currently the following sizes are available:
-X Small
-Small
-Medium
-Large
-XL 
-2XL