2015 YPIM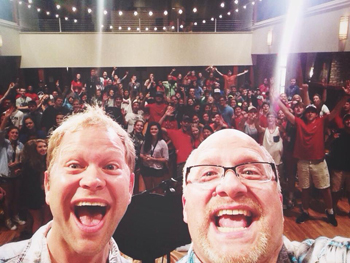 Young People in Mission 2015 has officially wrapped! Thank you to this year's Design Team, speakers, workshop leaders, family group leaders, participants and everyone else who played a role for making the event such a huge success. Soon we'll have a full recap on the blog, but in the meantime, relive your favorite moments by searching the #YPIM2015 hashtag on Instagram and Twitter. 
 
More information for 2016's event will be coming later this year, so we hope you'll start making plans to attend now. You won't want to miss it!
---
The 2015 theme of "Unique...Yet United!" was based on Ephesians 4:1-6:
"As a prisoner for the Lord, then, I urge you to live a life worthy of the calling you have received. 2 Be completely humble and gentle; be patient, bearing with one another in love. 3 Make every effort to keep the unity of the Spirit through the bond of peace. 4 There is one body and one Spirit, just as you were called to one hope when you were called; 5 one Lord, one faith, one baptism; 6 one God and Father of all, who is over all and through all and in all." (NIV)
The 2015 Design Team
Devon Dollar, Chair
Gracie Thull, Vice Chair
Ryan Calhoun
Mary Allred
Eli Weatherly
Marisa Duber
Jonathan Sanders

The Bible Study Leader was Rev. Jack Hinnen, former Chaplain of Birmingham-Southern College. Other speakers included Laura Kigweba (former UMVIM, SEJ intern), Mr. James H. Salley (Associate Vice-Chancellor for Institutional Advancement for Africa University), and Joe Woolsey (Minister to Students, Galloway UMC in Jackson, MS).
Worship was led by Rev. Eddie Willis and The Narrow Path from the Ole Miss Wesley Foundation.