2014 YPIM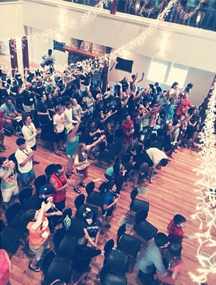 While each year of YPIM will have a different look, feel, Design Team, and theme, many of the same aspects are present from year to year. Below is more information on 2014's event to give you an idea of what your youth or youth adult ministry can expect. Head over to the UMVIM blog for a full series of posts on our awesome week at Lake J! 
_________Justice.
Kingdom.Relational.Restorative.Holistic.
June 29–July 3, 2014 
Young People in Mission is a camp experience with hands-on mission opportunities for youth and young adults between the ages of 12 to 24. Our hope is that this event served as a launch to empower them to serve with new eyes and a heart for justice. Each year, young people serve with local mission projects, worship together, fellowship and grow with family groups, dive into Bible studies, and learn from featured speakers and the City of Opportunity.
The 2014 Design Team:
Rachel Russell: Chairperson, Memphis Conference
Ismael Luna: Vice Chairperson, Mississippi Conference
Billy Rainey: Young Adult Representative
Gracie Thull: Alabama-West Florida Conference
Ryan Calhoun: North Carolina Conference
Taylor Thomas: Mississippi Conference
Devon Dollar: Mississippi Conference
Laura Kigweba: Memphis Conference

The Bible Study Leader for the event was Rev. R.G. Lyons, Senior Pastor at Community Church Without Walls in the North Alabama Conference.
Worship was led by Rev. Eddie Willis and The Narrow Path from the Ole Miss Wesley Foundation.