2019 Summer Intern: Kwabena Okai-Tweneboah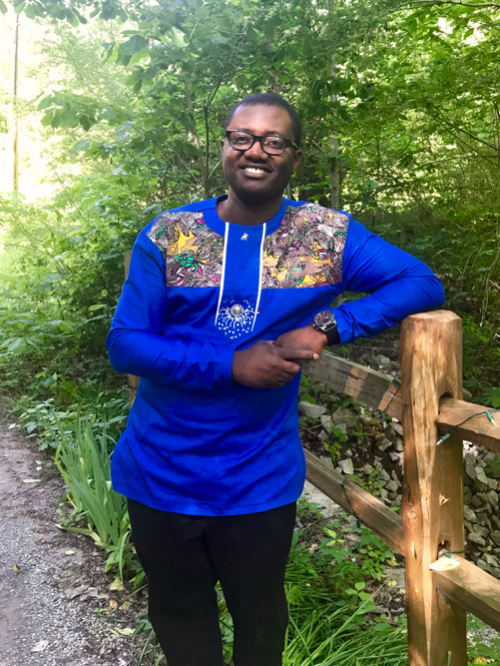 The UMVIM, SEJ office offers a summer intern program for young adults in the Southeastern Jurisdiction. This is a 8 week program where a student will spend 1 week in the Birmingham, AL UMVIM, SEJ office, 3 weeks at an UMVIM, SEJ domestic project, 3 weeks at an UMVIM, SEJ international project and then 1 week of debriefing in the UMVIM, SEJ Birmingham, AL office. The student will get to experience various aspects of mission and ministry, spend time with mentors, see justice at work, and spend time in discernment of their calling. This is a holistic mission and ministry experience in one summer. 
This year's intern will be Kwabena Okai-Tweneboah, a seminary student at Beeson Divinity School at Samford University, from Ghana.  
Kwabena, who goes by Okai, will serve several weeks at Reelfoot Ministries in Tennessee, several weeks at an international placement site, as well as in the UMVIM, SEJ office during the course of the summer.
Okai shares this biography:
Hark, the voice of Jesus calling, "Who will go and work today?
Fields are ripe and harvest waiting, "Who will bear the sheaves away?"
Long and Loud the Master calls us, Rich reward He offers free;
Who will answer, gladly saying, "Here am I, send me, send me."
(A song by Pastor Daniel March in 1868)
In the latter stanza of this wonderful hymn, the writer wrote: Let none hear you idly saying 'There is nothing I can do' whiles the lost of the earth are dying and the master calls for you. Take the task He gives you gladly. Let His work our pleasure be. Answer quickly when he calls you 'Here am I, send me send me.' This ideal song is a sum up of my life and my calling.
My name is Kwabena Okai-Tweneboah (Kwabena simply means I was born on a Tuesday) from Ghana the West of Africa. I am 28 years old from a family of Seven (7); thus my parents, four boys, and a girl. I happened to be the fourth (4th) born of my parents. My father is a Superintendent Minister in the Methodist Church Ghana. So, fortunately, I was blessed to be born into a God-fearing family. But my entire experienced with Christ Jesus changed in November 2007 at the Secondary School (High School) after I was giving the responsibility to serve as the President of the Ghana Methodist Student Union (GHAMSU). During our induction into this office, God through the pastor who gave the sermon redirected my path and gave me a new zeal to work in God's vineyard. From that time up to now, I have been experiencing the guidance of the Lord in my life. From the Secondary School, I continued to the University of Education, Winneba to pursue an Undergraduate Degree Program in Bachelor in Business Administration (Accounting). During that time I was able to serve in offices like; The Chaplin (Department of Business Administration, University of Education, Winneba), Bible Study and Mission Director (Ghana Methodist Student Union, University of Education, Winneba Local) among others. All these roles have really humbled me and gave me an opportunity to love God more.
After school, I started working as an accountant for a while but I strongly felt the Lord was calling me into ministry. Responding to this call, I wanted to do it right by developing the academic part of my calling. Through a mission group that came to Ghana, I was able to be connected to Beeson Divinity School in Birmingham, Alabama. For the first time, I left my family and people in pursuit of the calling of God. Life so far in America has not really been easy but the joy and comfort have always been the future impact this whole journey will bring to people in the world especially my own people. I just ended my second year in seminary and currently serve as a member of the Vestavia Hills United Methodist Church.  I really enjoy sharing Jesus to people and what better way to do this than being among the people. I have really come to enjoy missions because I have seen that every culture has a unique way of unveiling the love of God. After school, I plan to go back to Ghana and serve my people as a ministry and more importantly train church leaders and pastors. Serving the Lord is the greatest gift one can ever get. I am privileged to be called to work in this glorious vineyard and I know my experience this summer will go a long way to help this vision of God in my life.