2019 Intern: Okai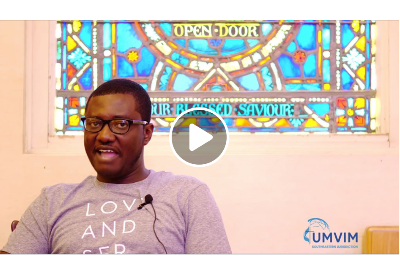 Meet the 2019 intern Kwabena Okai-Tweneboah.  A seminary student at Beeson Divinity School at Samford University, Okai is originally from Ghana.  
Kwabena, who goes by Okai, served several weeks at Reelfoot Ministries in Tennessee, as well as the Bahamas Methodist Habitat.
Okai shared this reflection about his experience:
The 2019 summer internship with UMVIM, SEJ helped enrich my experience in ministry and my calling to serve the body of Christ at large. I served in both the Bahamas Methodist Habitat and Reelfoot Rural Ministries in Tennessee.
Bahamas Methodist Habitat, located at Camp Symonette, is part of the Bahamas Conference of the Methodist Church. Their main work is focused on disaster relief and home repair in the Bahamas. They also organize and facilitate short term mission teams where volunteers serve on projects that address substandard housing and promote community. Just before I got to camp on the island of Eleuthera (which means Freedom), we passed through the Glass Window Bridge; a place which is believed to be the narrowest place on earth.  I was welcomed with a panoramic view of both the Atlantic Ocean and the Caribbean—a hint of how beautiful the journey would be.  
 The experience to me was not just about the hard work, but the spirit-filled and loving community you are immersed into. The best part of the work was working with the community to hold their yearly Vacation Bible School. The churches were so welcoming, and that really made me feel at home.
After the Bahamas, my journey continued as I drove more than five hours to the Reelfoot Rural Ministries in Tennessee. Reelfoot Rural Ministries is a mission program of the Memphis Conference of The United Methodist Church located in rural Northwest Tennessee. Along the way, I felt like I was in the middle of nowhere--not knowing that a rich experience was awaiting me. 
Part of my work was to build a ramp for a man that needed help getting into his house. The rest of my time mainly consisted of helping to serve the people with food supplies, along with others. My heart was always filled with gladness as the people picked their supplies with joy on their faces.  For the staff, it was not just about work, but having a big heart for the people they serve. Two churches nearby (Ridgely United Methodist Church and Tiptonville First United Methodist) became a home to me and gave me the opportunity to give the sermon during their Sunday service.
What a blessing it was to have that opportunity to be the hands and feet of God to the wonderful and beautiful people of the Bahamas and Reelfoot Rural Ministries. Although I leave them and come back to my everyday life, the impact and joy will stay with me forever.  It was an experience that cannot be forgotten. And as the people of the Bahamas always say, "With sand from this island in your shoes, it is a guarantee that you will surely return."