Go & Serve Training Weekend
UMVIM staff lead training while volunteers participate in a half-day service project with Urban Ministry, an UMVIM project based in Birmingham, AL. The Joe Rush Center for Urban Ministry offers a full-service mission camp, and the goal of the center is to strengthen relationships between volunteer groups and homeowners in the community over a can of paint and a paintbrush. They offer opportunities in house painting for low-income homeowners, primarily those who are elderly and/or disabled. The work is designed to give volunteers opportunities to reflect, discuss and pray about these important matters of faith: mercy, poverty and justice.
UMVIM, SEJ GO! Weekends are targeted specifically to youth and yound adults who work with college and youth ministries. While we currently do not have a GO! training weekend scheduled, please let us know if you are interested by emailing us at sejinfo@umvim.org.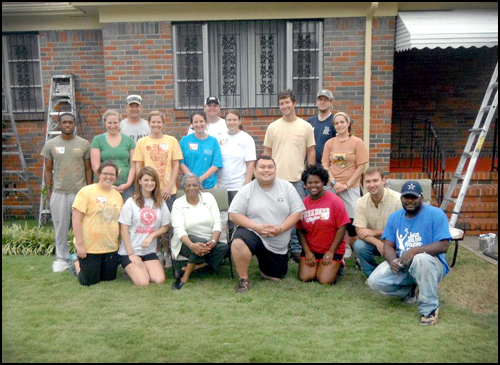 Primary Goals of the Weekend
–Volunteers will be equipped to lead a mission trip through UMVIM
–Volunteers will learn of opportunities to serve as team leaders around the world
–Volunteers will experience first-hand a well-run mission site and work with both the project leaders and the people whom the project exists to serve
–Volunteers will hear stories from young adults who are currently in the mission field, lead several teams/year, and work to create opportunities for young adults to serve
–Volunteers will create connections with fellow young adults with similar hearts for mission and service
---
Currently, we do not have a Go & Serve Training Weekend scheduled. If you would be interested in attending one of these training weekends, please contact Communication Director Malinda Nichols at malinda_nichols@umvim.org.